Panel Discussion:
It's Time to Get Over the 'O' in RPO and Level the Playing Field in Considering Talent Resources
Selling the market value of a strategic talent acquisition partnership is a no-brainer: Getting the right talent to the right place at the right time is a always a winning strategy, is a major goal for labor management specialists, and is a proven value-add to the organization. If this is such a no-brainer, then why are organizations still initially reluctant to equally consider RPO as an initial option to recruiting, staffing, and automated candidate sourcing when they look to acquire new resources in talent placement?

In all facets of talent management, the word 'outsourcing' carries a stigma that is unfair to an industry sector that expands resource development at a deeper and more proficient level than its competitor sectors. Unlike recruiting, staffing, and automated sourcing, RPO brings outside industry knowledge into the development process for the talent acquisition strategy. While organizations do form a partnership for talent acquisition, what they are really doing is expanding their resources for strategy and action without eliminating their internal recruitment management teams. The value of an RPO lies in its ability to outsource how vital information is sourced from outside the company to build an industry-best talent strategy. The truth is that the stigma of the 'o' in RPO is misplaced simply because organizations cannot access that outside perspective from inside the firm. In this panel discussion, we will talk about why it's time to get over the 'o' in RPO and to give RPO a fair chance alongside other talent acquisition solutions toward resolving talent placement problems.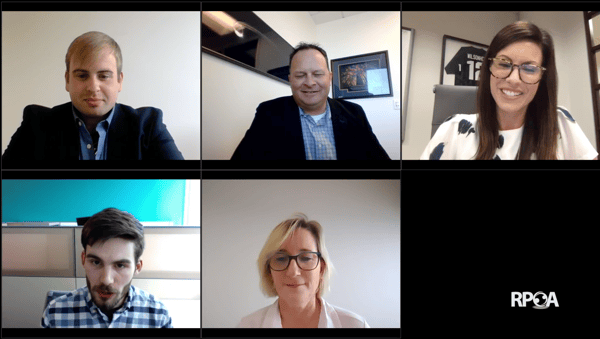 In this webinar, you will learn:
Finding Operational Value in RPO
The Perception of RPO in the market today
The Real Requirements of Partnering With an RPO
Overcoming the Stigma to Consider the Requirements and Achieve the Value
Revisiting the Value of RPO
Meet the Panelists
Zachary Chertok, Principal Analyst, HCM, Aberdeen
Zach has experience as an analyst across the technology sector with a base in analytics and human capital management. His experience extends to business development, business plan development, market research, and analysis for the tech sector, private equity, public policy, and economic development. He has a bachelor of engineering from McGill University and is currently a candidate for a master's of public administration from Columbia University.
Jenifer Kihm (JAK), Operant Consulting
JAK is a senior leader with extensive experience building competitive advantage through people and teams. Possess an approach to human capital optimization stemming from advanced training in organizational psychology and business administration, as well as continuous on-the-job learning that balances science, strategy and available resources to produce meaningful and sustainable results. Key areas of expertise are: comprehensive talent acquisition, talent development, succession planning, HR and change communication strategy and execution, variable compensation, problem analysis, professional research, solution design and implementation, department management, financial stewardship and executive coaching.
Ryan Baca, About Talent
Ryan Baca has always been passionate about the single most important element to a company's success: its people. This made the choice to join Roth Companies – an organization committed to creating remarkable experiences… every person, every time – an easy one. Ryan brings more than 15 years of workforce solutions and business consultation experience to his role as Vice President of About Talent. He is responsible for leading About Talent to be the best workforce solutions company in the industry. This includes building and nurturing service teams, creating optimized service delivery processes, overseeing operations, and developing and growing client partnerships.
Kim Pope, WilsonHCG
Kim Pope is Executive Vice President of Global Client Solutions at WilsonHCG. With more than 16 years of experience in talent acquisition and recruitment process outsourcing, she joined the company in 2010.
Kim leads WilsonHCG's global delivery team and develops cutting-edge solutions to help its clients create proactive talent acquisition strategies that fuel growth and innovation. She has been instrumental in building the framework for many of the company's global partnerships and played a key role in executing WilsonHCG's acquisitions.
A thought leader in the talent acquisition industry, Kim has received multiple honors including being named a "Woman Worth Watching" by Profiles in Diversity Journal and recognized as an "HR Global Superstar" by HRO Today.
Some insight from the discussion
"RPO consists of helping clients from end to end (full lifecycle recruitment,) or whether it's helping with sourcing, screening, technology Innovation, branding. There's a lot of different components." -Kim Pope
"When defining the value, and how you measure the value of RPO, you have to first understand the journey the organization is really on from a talent acquisition stand point and where the solution fits." - Kim Pope
"RPO users are more likely to see hiring top three candidates more than 50 percent of the time than non-RPO users." -Zach Chertok
"Organizations are less likely to understand what candidates are looking for than those who work with an RPO partner." - Zach Chertok