RPO: Outsourcing or Modern Necessity for Best-in-Class Hiring [Webinar]
Ladies and gentlemen, it's the 21st century and we need to begin differentiating between good and bad outsourcing. Along these lines, RPO is a bit of a misnomer because the value gained from an RPO partnership is more than just a replacement for your internal talent acquisition department. Instead, RPO partnerships bring a level of subject-matter-expertise to any internal hiring effort that fills gaps in the hiring strategy that plague the ability to overcome emerging skills gaps.
Here is what our research partners at Aberdeen found:
60% of organizations handle recruitment internally
They are more likely than those that engage an RPO provider to lack a formal understanding of why they fail to overcome their skills gaps.

They are also 59% more likely than companies that engage an RPO provider to be unable to establish a talent pipeline.
41% of companies partner with an RPO provider for strategic labor sourcing and talent acquisition.
They are 17% more likely than non-RPO users to find that more than 50% of their workforce is top quality.
When we think about 'outsourcing' we think about losing jobs, losing control of our internal protocols, or increasing costs in exchange for solving problems we cannot solve. The reality is that RPO partners provide valuable subject-matter-expertise that helps keep your organization at the cutting edge of how the sands of the workforce are shifting.
In this 30-minute presentation, Zach Chertok, principal industry analyst for the human capital management practice at Aberdeen, and Lamees Abourahma, President of the Recruitment Process Outsourcing Association talk more in depth about the benefits of working with an RPO partner as an extension of your internal talent acquisition efforts. You will hear about the key trends and findings we are seeing as we determine and analyze the practices that Best-in-Class companies are using to achieve their results.
About the Presenters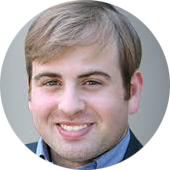 Zachary Chertok, Principal Analyst, HCM, Aberdeen
Zach has experience as an analyst across the technology sector with a base in analytics and human capital management. His experience extends to business development, business plan development, market research, and analysis for the tech sector, private equity, public policy, and economic development. He has a bachelor of engineering from McGill University and is currently a candidate for a master's of public administration from Columbia University.
Lamees Abourahma, President, RPOA
Lamees has experience in business consulting and technology. She manages all business aspects of the Recruitment Process Outsourcing Association, working with membership closely to advocate RPO and bring awareness to this important but under utilize talent acquisition solution.