Webinar: How to Stabilize Recruitment in an Unstable World
Talent Acquisition starts with first developing a holistic recruitment strategy. Learn how to properly address the five major components of a Talent Acquisition strategy by hearing from experienced HR and Talent Acquisition leaders across the country. Webinar attendees will learn how to build strategic processes that use best practices and technology to help recruiters identify and recruit the best candidates, despite market and industry uncertainties.
Who should attend
HR Leadership and Hiring Managers
What you'll learn
During this webinar, attendees will learn how to properly address the major components of a TA strategy by hearing from experienced HR and Talent Acquisition leaders who have built successful recruiting programs in tight labor markets across the country. The major components include, but are not limited to digital recruitment marketing, people and process.
Speakers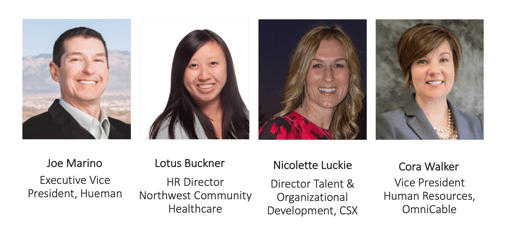 Joe Marino, Executive Vice President, Hueman
Joe has served as Executive Vice President of Hueman People Solutions since March 2009. As a member of the leadership team, Joe oversees Hueman's Consulting Practice, Business Development, and has oversight over many of Hueman's strategic partnerships. Hueman provides RPO Services, Subscription Recruiting Services, Executive Search Services and Talent Acquisition Consulting Services. Joe manages Hueman's Albuquerque Office and plays an active role in engaging Hueman's remote team-members. He has a firm commitment to driving the organization's culture, known as 'A Culture-by-Design'.

Joe has over 23 years' experience within the recruiting and consulting industry. He has spent time within large, publicly traded organizations, such as AMN Healthcare Services, where he was responsible for over $300 million in annualized revenue during his 8-year tenure. Joe has extensive experience with mergers and acquisitions, investor relations, along with international recruitment to the United States. Joe started his career with Arthur Andersen LLP in New York City where he obtained his CPA license.

Lotus Buckner, HR Director, Northwest Community Hospital
Lotus Buckner is a Human Resources and Organizational Development fanatic passionate about developing high-performing people, teams, and organizations. She's the Director of HR at Northwest Community Healthcare, a writer for Forbes, founder of LB Talent Solutions, and blogger and speaker on leadership and the future of work.
Nicolette Luckie, Director Talent & Organizational Development, CSX
Nicolette Luckie is the Director of Talent Acquisition and Development with CSX. In her current role, she is responsible for providing direction and leadership of talent acquisition, talent management, learning and development, diversity and inclusion, and employee relations functions across the organization.

Nicolette joined CSX in 2006 on the Talent Acquisition team and progressed into various roles as an HR Business Partner, Manager of Learning and Development, and Director of Talent Acquisition before moving into her current position. Prior to joining CSX, Nicolette worked at Russell Athletic in Human Resources.

Luckie is a graduate of the University of Georgia, where she earned her bachelor's degree in psychology and a master's degree in public administration.
Cora Walker, Vice President Human Resources, OmniCable
Cora Walker joined OmniCable in 2018 with over 20 years of experience in Human Resources. As VP of HR, Cora is responsible for leading, driving, and managing the strategic and day-to-day operations of OmniCable's Human Resources Department and partnering with leaders in the organization to ensure the human-capital focused goals of OmniCable are achieved and employee-owners are connected to the company's mission.

Cora has been recognized for her ability to cultivate relationships and collaborate in complex, matrixed organizations to achieve business objectives.